General view:
The embroidery is displayed in the centre of the screen when the file is opened; please note the ruler gives the dimensions in centimetres from the origin (start-point) of the design; the one below is approx 8cm x 6cm.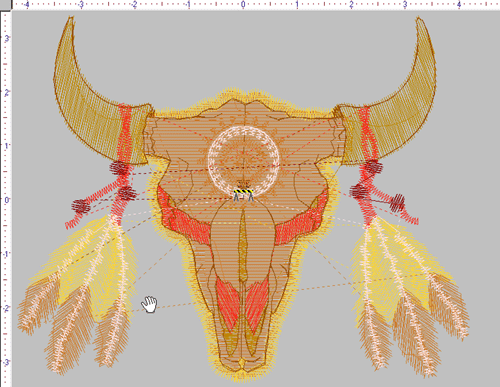 Measuring distance:
If you set your screen accurately (see tools/options/display - set visible screen area in mm) you can then measure distances on your screen with a ruler.
Alternatively you can do this on screen by selecting a point and holding down the left click on your mouse and dragging mouse to the other point; the measurements appear in the bottom LH corner of your screen.
Zooming and Panning Functions:
| | |
| --- | --- |
| Icon | Features |
| | Zooms in design; drag & drop a square that will become new viewing area |
| | Scolls back through the last series of 'zoom-ins' |
| | Returns design to occupy the entire space available in the viewing window |

Additional viewing functions:
| | |
| --- | --- |
| Icon | Features |
| | Allows user to select, select all and invert selection by clicking when an object is highlighted |
| | Show and hide embedded objects |
| | Highlight the area to be embroidered |
| | Show stitch marks and show stitches up to cursor functions |
| | Show objects and Show stitches buttons |

Action functions:
| | |
| --- | --- |
| Icon | Features |
| | Rotate design clockwise or anti-clockwise |
| | Scale design - it is not recommended to exceed +/-8% of original size; this is because 'adjust density' is not available in viewer |
| | Inserts machine functions at beginning of object: from L>R: trim/ stop/needle-up/frame-out/borer/sequin/applique/slow speed |

3-D preview:
Press: key P or Control P and view design in 3-D against chosen fabric background; the fabric type can be be changed in 'tool/options' under 'general'; the fabric colour is specified in the Colour management dialog
Please note that the entire view is displayed; ie; if you are in zoom mode then only that section will be viewed.