There are two ways to get help:

built-in help files under 'help/contents' - just click on the section you need and it will open a dialog window as below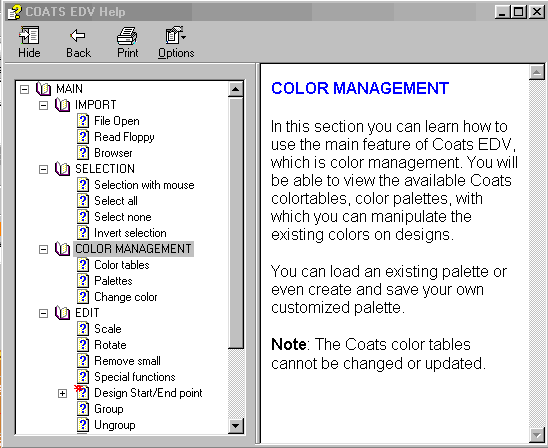 Alternatively:
'Help/show help on...' - place the '?' over the function you want help on and it will open a dialog box and explain that function; in the example below we asked for help on the scaling function:
Color Management
This dialog gives you the opportunity to change the colors of the current design or create, edit and delete your own selection of colors or choose from one of the Coats color references.
In this dialog can be seen the Coats and the default color tables, the chosen colors for the current design and the preview of the design.
___________________________________________________
System identification:
In case you need to identify which system you have simply click: 'Help/about' and the following screen will appear - you can quote the Build number in the top RH corner.